U.S. Air Force Fly-Overs – preliminary info
The U.S. Air Force has issued a Notice of Intent (NOI) to advise the public of its intent to prepare an Environmental Impact Statement (EIS) to assess the potential environmental consequences associated with optimizing the Special Use Airspace (SUA) to support aircrews stationed at Davis-Monthan Air Force Base, Luke AFB, and Morris Air National Guard Base in Arizona and to request comments on potential alternatives and impacts, and identification of any relevant information, studies, or analyses of any kind concerning impacts affecting the quality of the human environment.
A map of the areas affected is below and includes the Chiricahua, Peloncillo, and Dragoon Mountains, and nearby areas of southeastern Arizona and southwestern New Mexico. More information is available here.
We are still assessing this proposal, but it is of obvious concern as it could result in flights as low as 100 feet above ground level, flights that break the sound barrier as low as 5,000 feet, more training missions at night, release of chaff and flares, and other negative consequences for our peaceful area of southeastern Arizona.
A similar threat was successfully opposed in the past by the Peaceful Gila Skies coalition.
Key upcoming activities and dates include a series of public meetings, including one in Animas on February 24, and scoping comments being due on March 4, 2022.
If you are interested in receiving more information on this threat and the work of a coalition to oppose it, sign up here. Also stay tuned to this site for more updates.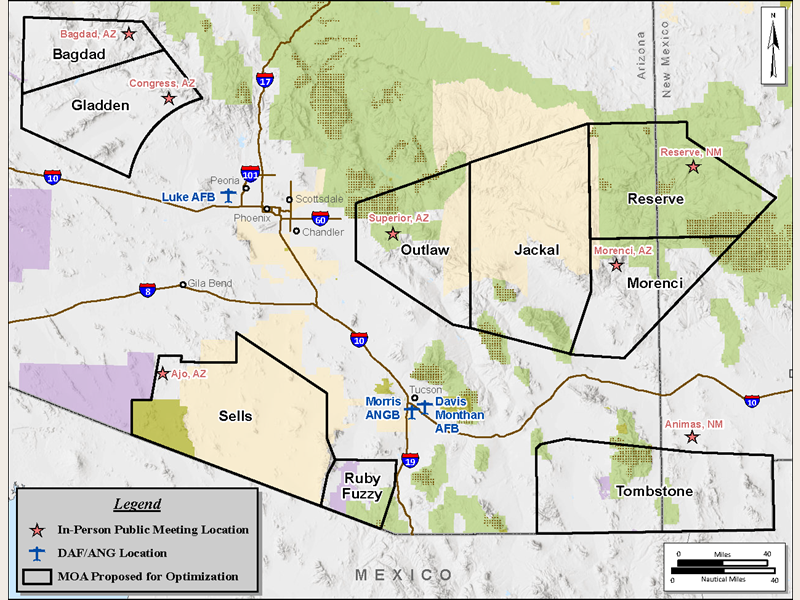 (click for interactive version)