(This is a part of a series of gleanings from the history of CRC's 30 years of work; additional posts available here.)
On May 27, 2010, CRC and Peg Abbott arranged a meeting with the US Forest Service to resolve problems involving permits for guiding and research on the Forest. The FS had been denying new outfitter-guide permits and research permits, without giving reasons for those denials. USFS employees had failed to respond to phone calls or emails on the subject. 
CRC noted in our comments that over 90% of the small businesses in Portal were tied to the environment and nature in one way or another, and ecotourism was the single biggest local source of income.
An excerpt of CRC's comments: "…non-profit college groups have had a long tradition of spring-break or summer trips to take advantage of the canyon as a superb outdoor classroom. However, of late, professors have been routinely subjected to denials of permits for this highly beneficial use. Owners of US and foreign-based commercial tour companies, as well as these teachers, have informed us of the frustrations they have encountered in their efforts to obtain permits and be legal when visiting here. An unknown number of commercial and educational permit applicants have given up, and some have written to us describing the failures of USFS employees to return phone calls and emails, and repeated failures of USFS employees to answer inquiries regarding permits…. 
"…it appears that the Cave Creek Canyon area is being treated differently from other areas of the Coronado National Forest in this regard, since the Forest Service continues to issue permits for guiding elsewhere on the Coronado. Madera Canyon and Ramsey Canyon are equally famous birding destinations, are more geographically compact than Cave Creek Canyon, and experience a much higher level of use––yet tour companies have not been restricted there….
"We hope you can provide a detailed and justified explanation for the current policies. They are unfair to the education groups and tour companies seeking to operate here and are negatively impacting the economy of the Portal-Rodeo community. We believe that properly conducted nature-based tourism and educational study are a benign and valuable use of the Forest, and should be encouraged, not discouraged through unjustified and burdensome restrictions."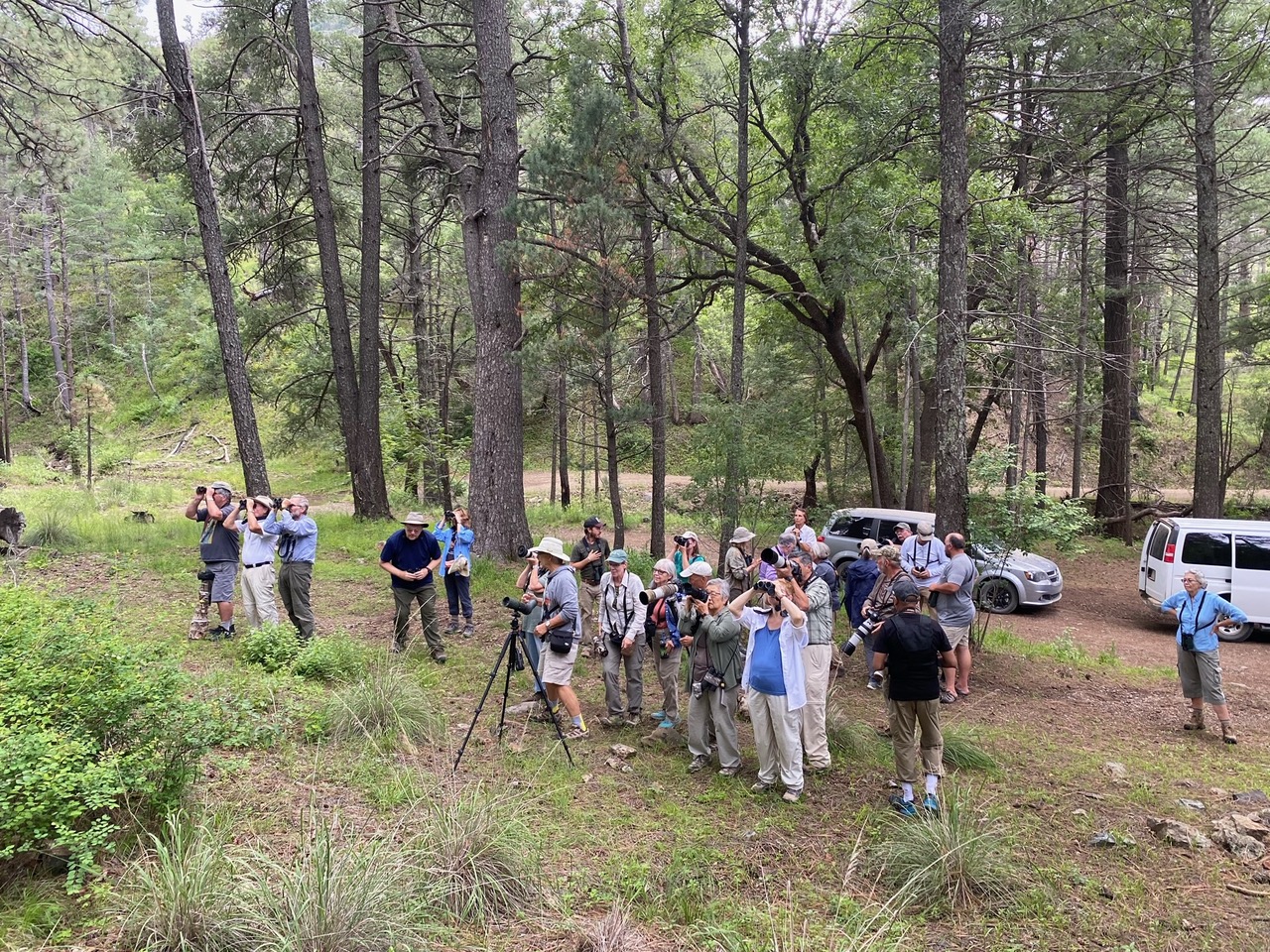 Among the meeting's attendees were Bill Edwards (Douglas District Ranger), Larry Pratt (Recreation Officer for the USFS), Ann English (Cochise County Supervisor), Gabe Zimmerman (Office of Congresswoman Gabrielle Giffords), Reed Peters (Cave Creek Ranch), Noel Snyder (then President of CRC), Helen Snyder (CRC Board Member), Alan Craig (CRC Board Member), Narca Moore (CRC Board Member), Dawn Wilson (Director of the Southwestern Research Station), Kim Vacariu (Western Director, Wildlands Network), Mitch Webster (Portal Peak Lodge), Bob and Sheri Ashley (Chiricahua Desert Museum), DiAnn Matteson (Mountain Valley Lodge), Judy Davis (Avian Journeys), Karl Schmitt and Patrick Dome (Casa de San Pedro near Hereford), Durward Hulce (Independent Guide), and personnel from tourism offices and visitors bureaus from several cities.
A lot of firepower for one meeting! We were gratified when the Forest Service quickly solved the problems with their permit system.